Major recent wins for Ripple and further investigation by Attorney John Deaton, representing XRP holders in the Ripple lawsuit, suggests that there are "reasonable grounds" to conclude that XRP does not satisfy all elements of the Howey Analysis and may not be considered a security under federal securities law.


The Hinman Emails are coming!
John Deaton highlighted a footnote in Ripple's opposition and reply briefs submitted to the court after recent court order that denied The SEC motion to seal the Hinman documents from the publics stating that the documents hold "no relevance" to the final outcome of the case and that the SEC's mission outweighed the "public's right" to access the documents. That last part is a fun note highlighting the SEC's entitlement.
With all that said, The Hinman Speech documents are to be released publicly by June 6, citing a previous court order. Even Brad Garlinghouse is ecstatic about the overall result thus far.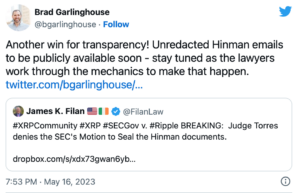 For those that are just catching up, The Hinman documents relate to a 2018 speech from former SEC Corporation Finance Division Director Bill Hinman, who essentially stated that Ethereum was not a security. The documents involve the SEC's internal discussion and deliberations around this speech. Some in XRP community believe that the Hinman documents being unsealed could really spark the conversation of a settlement from either side purely because some parties do not what this information to go public.


Where did this all start and what are the implications?


The current status of the XRP Ripple vs SEC case is that it is still ongoing. The SEC filed a lawsuit against Ripple Labs in December 2020, alleging that the company had violated securities laws by selling XRP, its native cryptocurrency, without registering it as a security. Ripple has denied the allegations and had filed a motion to dismiss the lawsuit.
The outcome of the case is still uncertain, but it is likely to have a significant impact on the cryptocurrency industry.In full transparency, I'm pro Ripple and XRP. It makes up approximately 40% of my cryptocurrency holdings. I'm really looking forward to seeing where this case goes in just a short amount of time. I think we're about to see some big moves in the case when these documents hit the public.